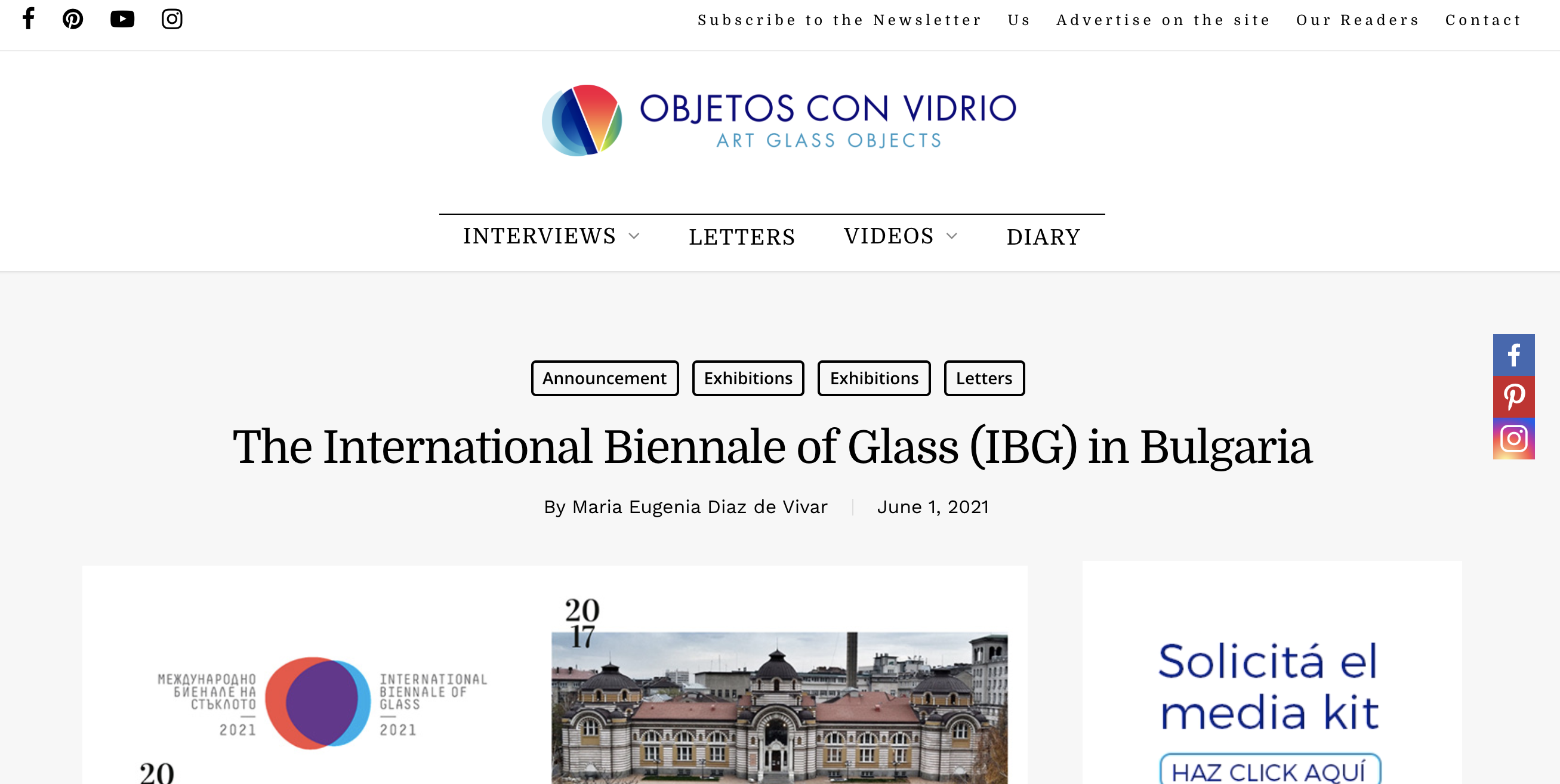 The International Biennale of Glass (IBG) of Bulgaria is consolidated around the world, with the participation of 46 countries in its third call.
The International Biennale of Glass (IBG) It is the first and only art event in Bulgaria dedicated exclusively to the art of glass.
The IBG was founded in 2017 by Konstantin Valchev, glass artist, teacher's former student Stanislav Libensky and currently professor of glass art at the New Bulgarian University, where he established the glass art department more than 10 years ago.
The goal of the Biennial is to promote glass art in Bulgaria and feature world-renowned artists in the field, to encourage emerging, established and young Bulgarian and international glass artists to collaborate on workshops and exhibitions; to show his works throughout the country in museums, art galleries, cultural centers and other artistic spaces in cities.
The guests at the event are international authors and lecturers who present to the audience the opportunities and achievements in this field of Fine Arts. IBG offers college scholarships in association with the New Bulgarian University. Through this collaboration and collective care for the new generation of artists, IBG strives to popularize glass art both in Bulgaria as on the international scene.
The 2017 biennial was highly acclaimed and received with great interest and enthusiasm by artists, art professionals and the public. It welcomed 120 artists from 30 countries and showcased works by renowned authors such as Stanislav Libenský and Jaroslava Brychtová, Zden? K Lhotský, Dana Záme? Níková and many others.
In 2019, the Biennial received the patronage of the president of the Republic of Bulgaria. Its second edition hosted artists from 37 countries, including Tagliapietra linen, Marvin lipofsky, Ji? Í Šuhájek Y Václav Cigler. Again with very positive and successful results throughout the events that occurred throughout the country.
The third edition of IBG (still under the patronage of the president) will take place this October in "Kvadrat 500", the renovated and expanded building of the National Gallery of Bulgaria in the capital of Bulgaria, Sofia. The IBG takes hold all over the world, with the participation of 46 countries in its third call.
The main objective of the Biennial is to encourage and reflect the evolution of glass art by displaying works by world-renowned artists as well as works by emerging artists.
The International Biennale of Glass (IBG) of Bulgaria is consolidated around the world, with the participation of 46 countries in its third call.
IBG Bulgaria 2021: List of selected artists
153 selected artists from 46 countries (Argentina, Australia, Austria, Azerbaijan, Belgium, Brazil,
Bulgaria, China, Colombia, Costa Rica, Croatia, Cuba, Czech Republic, Denmark, Egypt, Finland,
France, Germany, Guatemala, Hungary, Indonesia, Iran, Ireland, Israel, Italy, Korea, Latvia,
Lithuania, Luxemburg, Mexico, Netherlands, New Zealand, Norway, Peru, Poland, Romania,
Russian Federation, Serbia, Singapore, Slovakia, Spain, Thailand, Taiwan, Turkey, United
Kingdom, United States, Uruguay)
Adam Norman Jenkins, Afrodite Elseesy, Agnieszka Lesniak-Banasiak, Ake Rawdmek, Alan Iwamura, Albena Dimitrova, Alejandra Gubinelli, Aleksandar M. Lukic, Aleksandra Kujawska, Alex Ubatuba, Alina-Madalina Panturu, Ana Lauraz Andastasiya
Andrea da Ponte, Anita Darabos, Anjali Venkat, Anna Tzolovska, Antoine Pierini, Aoife Soden, Ariel Aravot, Arunas Aleksandras Daugela, Audone Andruleviciene, Austin Norvell, Batia Mach Shepherd, Batya Gil Margalit, Bernadette Neven, Birgit Köblitz, Bruno Bowen Zhang Romanelli,
Caterina Zucchi, Caterina Zucchi & amp; Lucio Bubacco, Cathryn Shilling, Claudia Henao, Claudia Virginia Vitari, Dainis Gudovskis, Dan Mirer, Demetra Theofanous, Derya Geylani Vurusan, Désirée Sessegolo, Dmitry Platonov, Dominique Juric, Elke Mank, Elmira Belova, Eunkyoung Lee,
Evgenia Lukianova, Grisel Pereyra, Guimei Jiang, Heraclio Vidal Yucra Huanca, Herbert Monsieur, Ioana Stelea, Ivaylo Nenov, Jaime Graschinsky, Jan Hooghiemstra, Ján Mytny, Jean Thebault, Jean-Philippe Paumier, Jeounghee KIM, Joaquy Popelka Falcó and Meritxell Tembleque, Jorge David Falcon Acosta, Josipa Baljak, Julia Kastler, Julia Rokina, Juraj Oprsal, Kamila Mróz, Klaus U. Hilsbecher, Krista Israel, Kristína Ligacová, Kseniia Vekshina, Lambert Weston, Laura Mckinley, Layo Bright, Lee Harris , Lucian Butucariu, Lynden Over, M.Guclu Polat, Mahar Maharramov, Makar Zhemchuzhnikov, Margarita Markova, Maria Bacho, Maria Usova, Maria Valterova, Maricel Alvarado Orozco, Marina Aletsee, Markus Makinen, Marta? Ibiete, Marta Ramírez, Matea Zeman, Michael Behrens, Michael Hernandez, Michael Janis, Michaela Spruzinova, Mihai Topescu, Ming-Fan Cheng, Minna Tuohisto-Kokko, Miroslava Ptácková, Morgan Stockton, Mustafa Agatekin, Nancy Yu, Natalia Gerschcovich, Nataliya Vladychko, N egin Navabi, Nikola Grozdanov, Nilgun Dicle, Ozge Bicer, Palo Macho / Jana Hojstricová, Pascale Seil, Patricia Bagniewski, Pawel Palewicz, Peter Kovacsy, Petr Stanicky, Plamen Kondov, Radu Popovici, Rafael A.Zarazua R, Rahardi Handining, Renato Perez Sanchez, Roger Demasy, Saman Kalantari, Sayed Waked, Silvia Zimerman, Slate Grove, Sophie Longwilll, Stefania Mazzola, Stephanie Trenchard, Susan Madacsi, Tai Xiao, Tali Grinshpan, Tanya Hubenova, Teresa Apud, Tereza Vuki ?, Theo Brooks, Tim Tate, Tirza Verrips, Tuva Ginsholt, Vendulka Prchalova, Vera Golubeva, Vera Sedakova, Veronika Mileva, Vesela Nikolova, Vessy Gekova, Vladimír Procházka, Wes Valdez, Wilfried Grootens, Xiaohan Wanin, Yao Li, Yongxried Wanxin , Yovana Dimitrova, Zhao He, Ziyan Wang, Zsolt János Budai.